Tri-County ATV was formed in December of 2000. It started by a like minded group of individuals looking to develop a safe, responsible, and fun place to enjoy ATV riding.

The first year Tri-County was able to put on our very first organized poker run with the use of some privately owned property.The first event had its share of challenges, using a setup pavilion tent as a starting point, kitchen area, and registration stand. Of course the weather that day was no bargain either, it was in the mid forties and rainy. Overall the event was a success.

From there Tri-County began it's search for a piece of property to lease to start developing the idea this small group of individuals had. It was only a few short months and the newly formed club was able to develop a relationship with several land owners that was willing to assist. The next year allowed us to put on three more events and in the spring of the following year Tri-County got the break it was looking for. One of the land owners worked out a deal that would allow us to start developing our own club pavilion. From this point forward Tri-County ATV was under way.

The work on the pavilion started in early March and the initial plan was completed by the end of the month.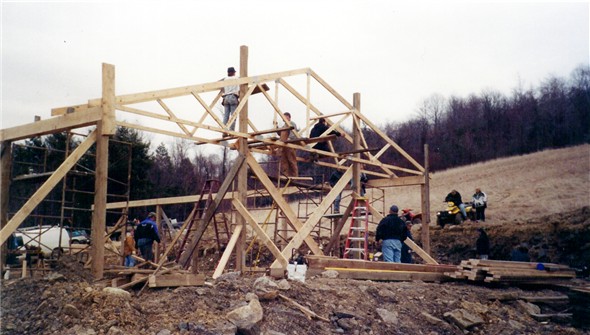 | | |
| --- | --- |
| Tri-County would then start the development of a trail system and held three events that year at its new club grounds. | |
Over the next year there was the addition of a kitchen facility to the pavilion and the continued development of a trail system.
Home Design Concepts Donates a beautiful Tile Floor!


After each event the club looked to develop new ideas to improve the club grounds. One of the new ideas was to build a drag strip and pulling track for the club.


It was not long and an individual was hired to grade the new track area.The track was graded and the first pulling event was held in November of 2003.

Racing
Racing
Racing
While all of these exciting developments were taking place Tri-County's membership continued to grow from the original handful of members to today's 800+ memberships.

The club is excited with growth and development of the property so far, but by no way are we done yet! So come on out and join this exciting club in developing a great place to enjoy the sport of ATVing.


Victory Signs donates our new "Home Sweet Home" sign.